Stephanie from Glasgow complained that the edges of her teeth were not straight and wanted a porcelain veneer to cover a brown tooth.
Once Dr Murphy examined her teeth he discovered she had a bonded wire orthodontic retainer which had become detached or, in dental language, debonded. You can see it behind her front teeth here.
Stephanie's braces had been fitted several years earlier by a different dental practice and over time her detached retainer had caused her front teeth to drift.
Fitting a Porcelain Veneer Over a Darker Tooth
Once Dr Murphy removed this original orthodontic retainer he prepared Stephanie's upper left lateral incisor for her porcelain veneer. This was the brown tooth which had brought Stephanie to the surgery. You can see it here.
When Stephanie came in for her porcelain veneer fitting, we also bonded composite resin onto the incisal edges of her other incisors. This was in order to give them a straighter appearance.
As an essential preventive measure, it was necessary to fabricate a removable retainer. This was to make sure there was no recurrence of incisor drifting in the future.
As you can see below our dental laboratory partners did a great job of matching the porcelain veneer to the shade of Stephanie's own teeth.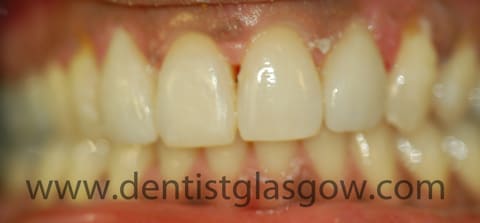 Brown Tooth Problem?
Perhaps you have a brown tooth. Maybe you have uneven edges on your front teeth. Please take a look at our information about porcelain veneers and if you have further questions our Glasgow team will be delighted to help you.