Margaret came to our Glasgow dental practice having had her upper left central incisor recently removed by her NHS dentist.
As luck would have it, she had an old dental implant crown on her adjacent upper right central incisor,  meaning the original implant could be used.
No additional implant placement was required in this case. Dr Murphy advised that the implant he had placed 11 years ago could be used again.
A temporary denture was required for approximately two months after which the original implant crown was removed to reveal the original implant abutment (post).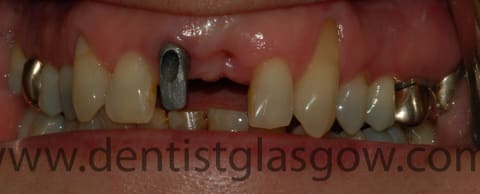 Alex from Vitality Dental Laboratory came along to select the correct porcelain shade and translucency to match the required finish. After discussing it with Dr Murphy, he agreed it needed a more translucent porcelain than was on the original crown.
Another problem was the perceived length of the original crown. The advice given to Alec was to use more pink porcelain blending in order to disguise the original tooth length.
The patient felt that her objectives had been achieved two months ahead of schedule. She had anticipated needing an additional implant and was delighted we were able to reuse the original one.
Margaret said about her problem tooth: "I can't quite believe that two or three problems have been fixed in the same treatment and which took half the time."
Margaret paid £1700 for a two tooth implant bridge. The price of a single implant crown costs from £2100.